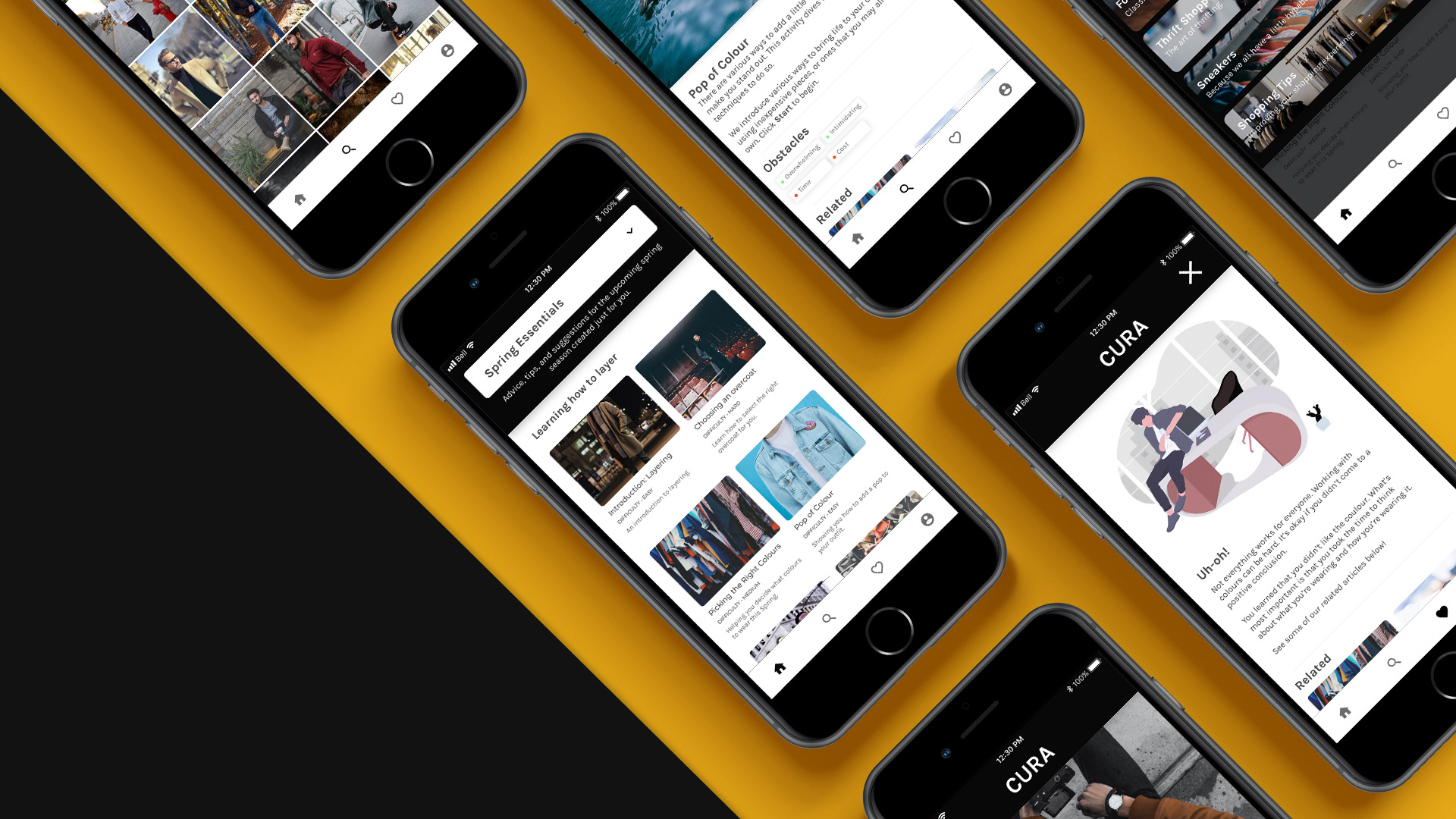 There is a disconnect between men and the world of fashion. Fashion is an inaccessible market for men unless you fit into the narrow target demographic. There are very few effective resources to help men determine their own style. Majority of the resources available don't consider diversity, CURA is built around inclusivity and finding confidence in ownership, choice and thought.
CURA aims to aid young men in learning about style through practical activities. The app gives users the ability to educate themselves on style practices to help them define their personal style. CURA is designed to evoke a reflection in the user on their style journey rather than teach them what to do.
Majority of the resources available do not consider diversity, CURA aims to help men of all socioeconomical backgrounds without imposing what is right or wrong.
There is no right or wrong when it comes 
to fashion and personal style. 
Users are taken through a process to define their personal style and what barriers get in their way when developing their wardrobe. The activities are designed to get the user to start thinking about their personal style and evoke a reflection which helps them determine what they like and dislike.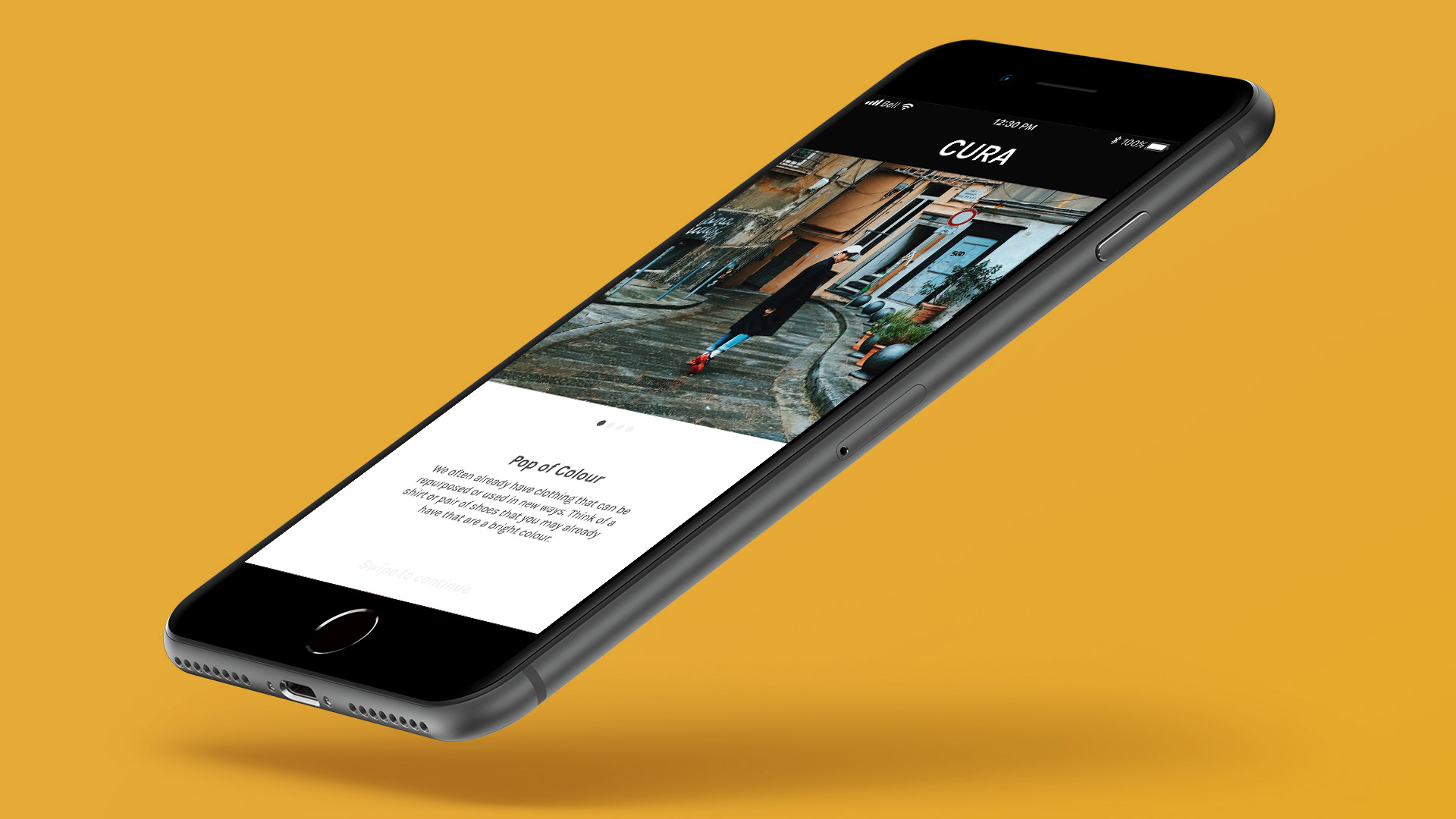 Design Process
The goal in mind was to create a way for men to learn about style without depending on someone else. 
It was made apparent that there were no effective resources to help men determine their own sense of fashion. Research shows that there is a confidence boost that comes with feeling good about how you're dressing. It i

s less t

o do with how fashionable you are but more about how much you c
are.
​​​​​​​
During the design of this project, a recurring assumption was that
you cannot duplicate the experience of having a stylist or personal shopper.
The research question became "How might we create another version of the experience?". In this phase, the solution was narrowed down to determine how information was presented by selecting a medium.
The inclusion of a reflective style activity was implemented in this stage to help users create conversation with themselves. CURA activities encourage cognitive thinking during the reflections to help remember the experiences whether positive or negative. There is still value from a negative experience when learning about style.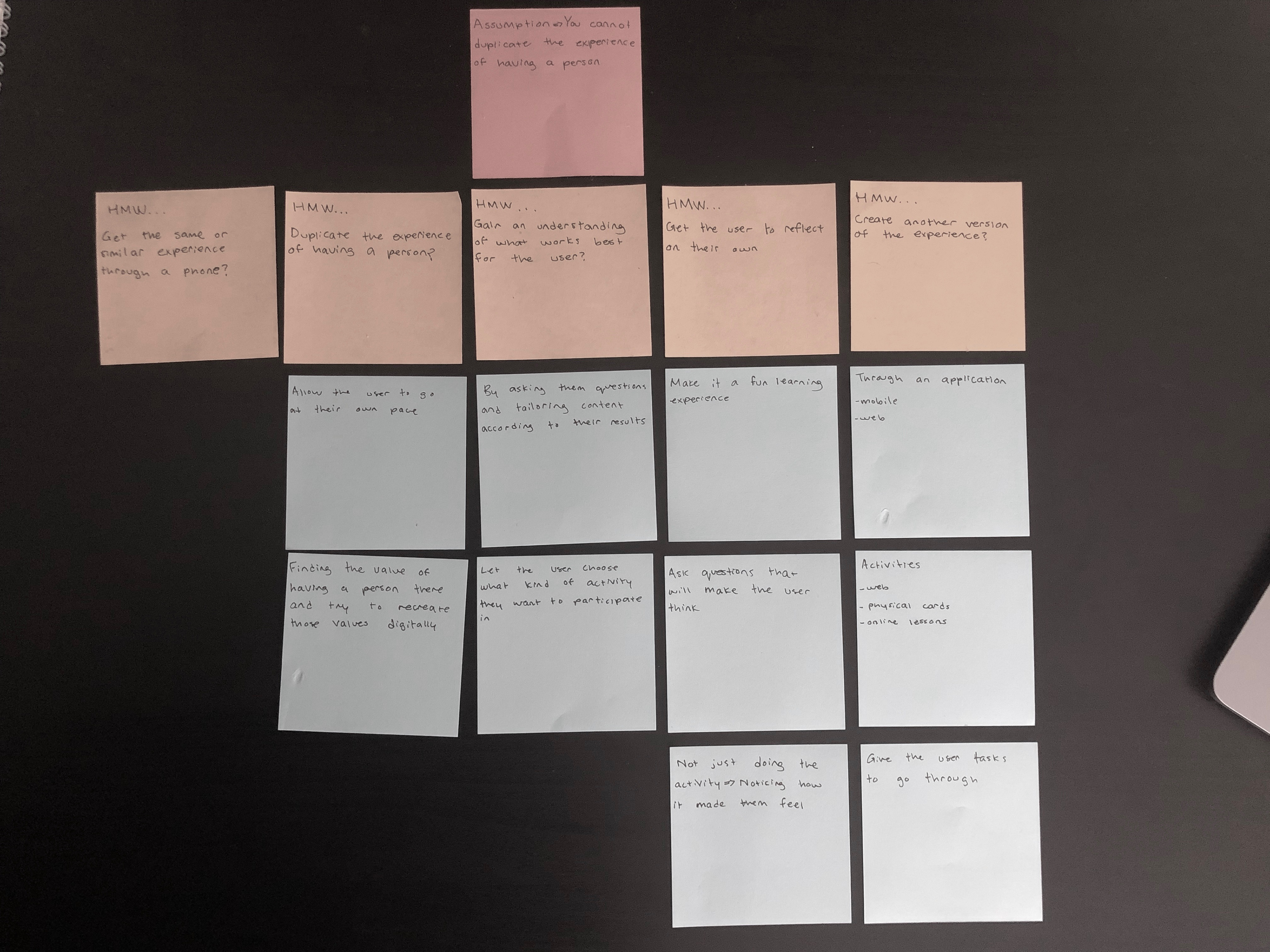 Research
Primary research was conducted to determine if users would express their thoughts on fashion and reflect on their clothes shopping experiences. The perception is that men do not enjoy the shopping experience. They do not have resources available to them for learning style and therefore have put up barriers. The research determines that the four main barriers for men learning style are: 
• Cost 
• Time 
• Overwhelming 
• Importance 
An observation of the leading resource for men's fashion. The top 5 mens fashion YouTube channels were assessed to determine what type of content they were making and if it applied to a diverse group of men.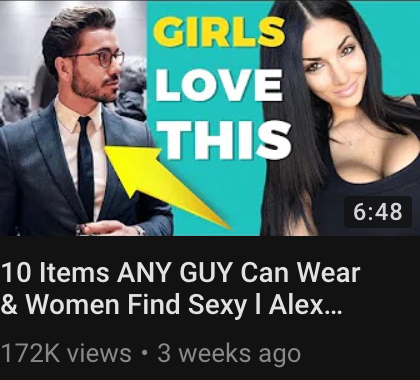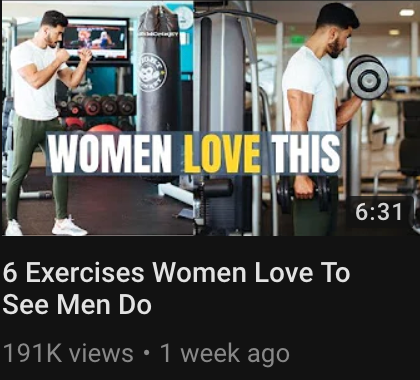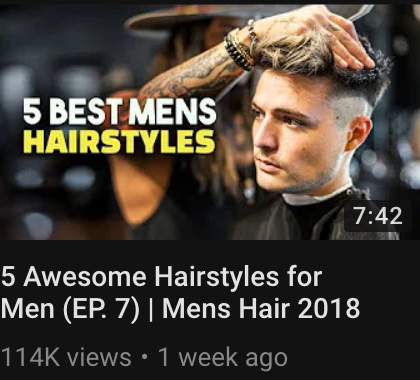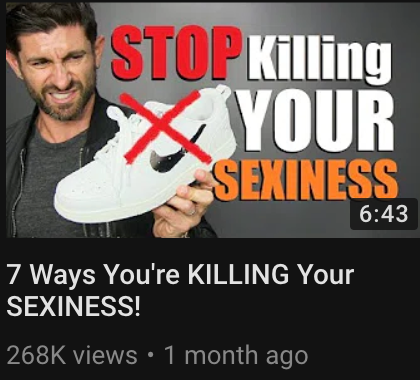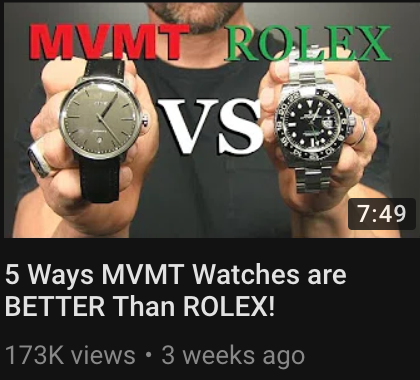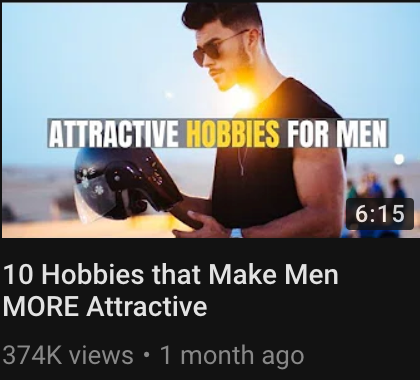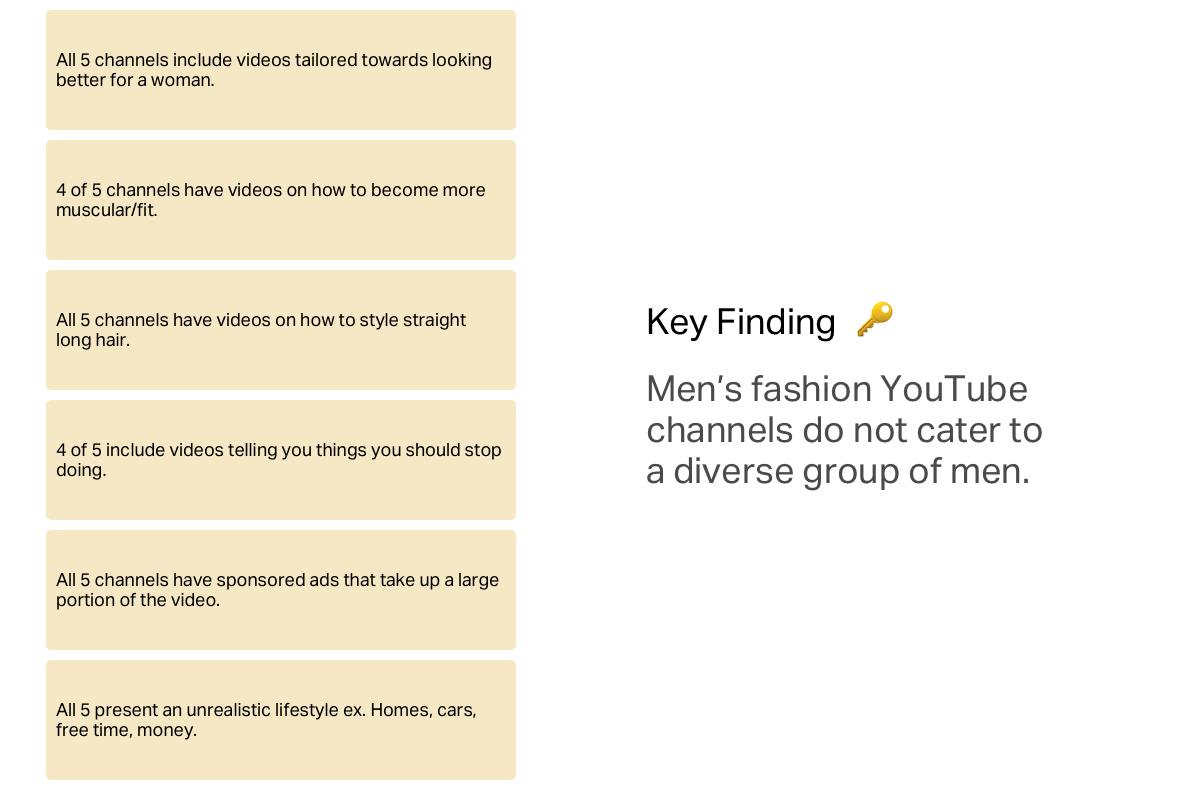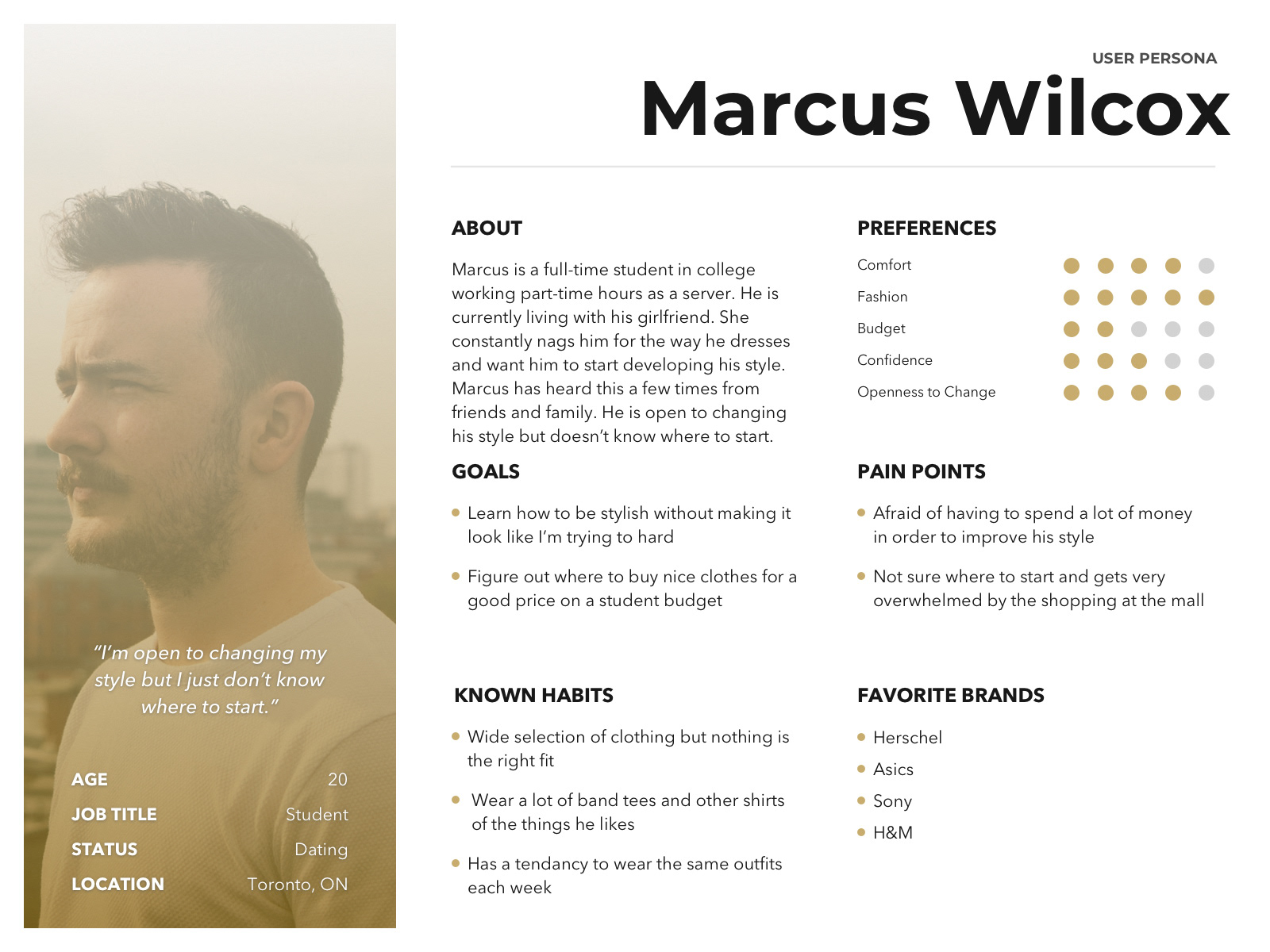 "When we're happy in the way we look, we tend to express it in the way we act outwardly, including the way we treat our peers."

The typeface was selected to match the tone of CURA. Karla is a sans serif grotesque font that is very clear and feels familiar. Only Karla was used in two different weights throughout the applications user interface.